How to Watch Winter Olympics 2022 Live Online
Posted by BulletVPN on 28 01 2022.
The 2022 Winter Olympics will take place on the 4th of February, 2022 in Beijing, China. This will be the first event in China, which ups the excitement to the maximum. Luckily, the action is broadcasted all over the world, courtesy of international partners in several countries. However, each channel only operates within its respective countries, blocking viewers overseas due to geo-restrictions. BulletVPN strives in bypassing geo-blocks, and this time, it's no different. So, here's how you can stream the XXIV Olympic Winter Games live anywhere.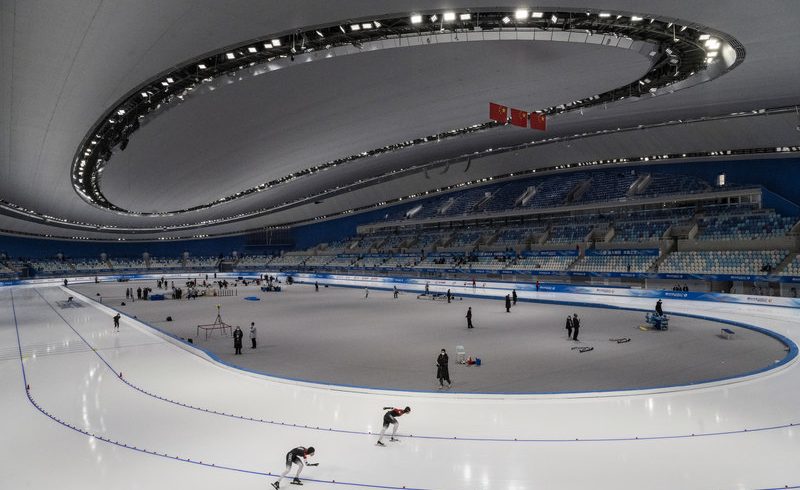 Winter Olympics 2022 – The Streaming Channels
The Winter Olympics is one of the biggest events in the world, and the fact that this year it's in Beijing for the first time ups its popularity to the maximum. Back in 2018, the Pyeongchang Winter Olympics 2018 averaged 27.8 million viewers.
As you can see, the numbers show how popular the event is. However, the Winter Olympics wouldn't reach global status without having broadcasting partners all over the world. Dozens of channels are airing the Games live, but they're all restricted to specific regions. We'll be talking about this later on, but for now, here are the official Winter Olympics channels:
As stated, these channels only operate within their country of origin, blocking anyone's access if their traffic is coming from an overseas region. This is called geo-blocking – a mechanism used mainly for copyright reasons – in which a channel examines your IP address to determine your location.
If you reside outside the channel's coverage area, it'll block your access almost instantly. For example, 7Plus is only available in Australia, which means you must have an Australian IP address to watch its content. If you live abroad, such an IP is exactly what you lack, resulting in an error message that looks like this:
"Sorry, video is only available within Australia due to licensing restrictions. Error Code: MEDIA_GEO_BLOCKED."
Regardless of whether you have a dedicated Winter Games channel in your country or not, there are always better options, especially when they offer live streaming for free. If geo-restrictions are blocking your access, you can easily circumvent them using BulletVPN. Find out how in the section below.
The Winter Olympics Goes Extra Global with BulletVPN
BulletVPN has been around for quite some time now, offering its customers enhanced security and anonymized browsing with a push of a button. Once you connect to a VPN server, BulletVPN shields your data using military-grade encryption. Now, regardless of the network, you're connected to, no one can intercept your browsing activities or get a hold of your data.
Aside from that, BulletVPN cloaks your IP address and replaces it with a temporary one based on the connected server's location. With that, you'll be able to surf the internet with complete anonymity, evading any prying eyes such as your ISP or even your government.
That's not all. As an added plus, you get to access geo-blocked content in that region regardless of your current physical location. This goes specifically for the channels on our list for streaming the Winter Olympics. We'll help you out even more. Here are the steps you need to follow in order to watch the 2022 Winter Olympics live:
First, subscribe to BulletVPN.
Next, download and install the BulletVPN app on your preferred device.
Sign in with your account and open the server list.
Connect to a server based on the channel you wish to stream the Games on:

US server for NBC Sports.
UK server for BBC iPlayer.
Australian server for 7Plus, etc…

Launch the channel's app or website.
Sign in with the channel's account if required.
Stream the 2022 Winter Olympics live wherever you may be.
This is all you need to watch the Winter Games in any region. You may ask yourself: Why BulletVPN? We're pretty sure the next section will answer your question.
Why BulletVPN for Winter Games?
While the steps above are very easy to follow, the process on BulletVPN's end is quite challenging and we try our best to provide the best services to our customers. In case you didn't know, geo-blocking isn't the only obstacle streamers face when trying to watch online content.
In fact, most of the channels above can detect VPN traffic and block your access instantly. Most VPNs don't upgrade their servers so that they can keep up with these defense mechanisms, but luckily, we do.
Take NBC Peacock, for example. The channel is one of the top streaming services in the world and can block VPNs. If you approach its content with a not-so-credible provider, you'll be definitely receiving the following error:
Something went wrong. Sorry, accessing Peacock through a VPN is restricted. (OVP_00013).
With BulletVPN, regardless of how tough the VPN block is, you'll always get your content anywhere you may be. The screenshot below represents how BulletVPN managed to unblock NBC Peacock seamlessly.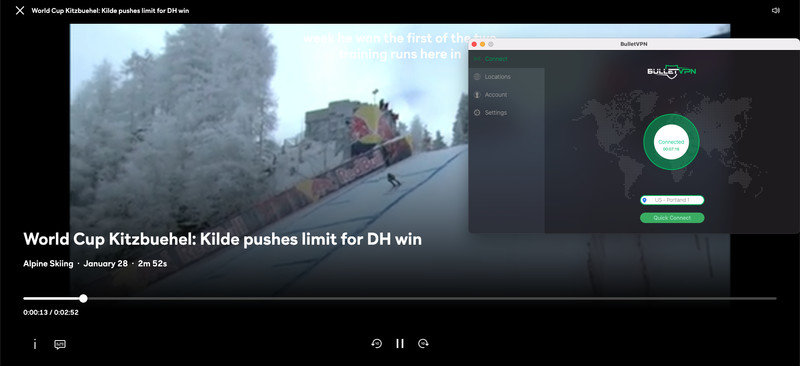 Aside from the VPN option, you can use BulletVPN's
Smart DNS
to stream the Winter Olympics. Once configured, you can watch the event on a wider variety of devices that don't support VPN clients such as
Apple TV, Samsung Smart TV, Xbox, PlayStation, and more.
BulletVPN offers a 30-day refund policy to new customers. If you ever want to give it a try, you can test everything within 30 days and ask for a refund if everything didn't turn out as well as you'd hoped for. Moreover, if you contact BulletVPN's customer support, you can benefit from a 1-day free trial (No credit card information required).
Winter Olympics 2022 – Final Words
The Winter Olympics is bigger than ever once it reaches Beijing. It's going to host 95 nations and the action is over the top. Now, you have all the means to stream the event live in your country. If any further help is required, you can contact BulletVPN's customer support and they'll help you out.