How to Watch Wimbledon 2022 Live Online
Posted by BulletVPN on 24 05 2022.
On June 27th, 2022, Novak Djokovic and Ashleigh Barty defend their titles in one of the most prestigious Grand Slam tournaments, The Wimbledon Championships. This year will mark Wimbledon's 135th edition, taking place at the All England Lawn Tennis and Croquet Club in Wimbledon, London, United Kingdom. Due to banning Russian tennis players, this year's tournament has been stripped of its ranking points. However, global TV broadcasters are still scheduled to air the championship. If you don't know your way around, here's how you can watch Wimbledon 2022 live anywhere.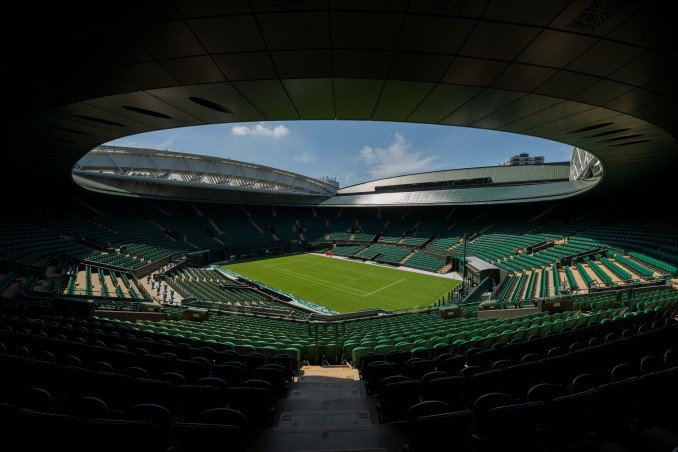 Wimbledon 2022 – The Official Broadcasters
Back in 2019, more than 3.83 million viewers saw the final between Novak Djokovic and Roger Federer at Wimbledon on ESPN. This shows how popular the championship is in the United States. However, Wimbledon's popularity grew globally, reaching dozens of countries, courtesy of its broadcasting partners.
We have to note that each channel only operates within its respective country. In other words, due to licensing agreements, overseas unauthorized streaming is prohibited. Now, we'll be shedding more light on the matter later on. But for now, here are the Wimbledon 2022 broadcasters:
As mentioned, these channels only allow you access if you reside within their respective countries. That's because they use geo-blocking, a mechanism that blocks/allows user access based on their location.
The channels examine your IP address as you attempt to launch their website or app. If they determine your location and it happens to be outside their coverage area, you'll be instantly blocked. Take BBC iPlayer, for example.
It only works in the UK and requires a British IP address. If you live overseas, a UK IP is exactly what you don't have, resulting in this error message:
"BBC iPlayer only works in the UK. Sorry, it's due to rights issues."
To circumvent the imposed geo-restrictions, you must change your IP address to that required by the channel. That's an easy task if you make use of BulletVPN.
Stream Wimbledon 2022 Live with BulletVPN
Your IP address dictates what you get to access online. If you were to change that, you'll be able to access any blocked website no matter where you are. BulletVPN is a tool that can help with the task, and it can do it seamlessly.
With a push of a button, you'll establish a VPN connection, and appear anywhere in the world, depending on the server you are connected to. During the process, BulletVPN applies military-grade encryption, shielding your data from any possible online threat out there.
Not to mention that with a hidden IP and a burrowed temporary one, you'll be able to avoid any spying attempts by your ISP, government, or any other third parties. It all depends on the server's location. For example, if you connect to a UK server, you'll receive a British IP address.
As a result, you'll be able to stream Wimbledon 2022 live on BBC iPlayer anywhere you may be.
Wimbledon Streaming – The Steps
Setting up BulletVPN and unblocking channels all over the world won't take more than 3-minutes. Here's what you need to do:
First, sign up with BulletVPN.
Download and install the BulletVPN client on your device. You'll find clients on Android, iOS, PC, Mac, as well as Fire Stick.
Next, activate the app and sign in with your credentials.
Connect to a server based on the channel you wish to watch the championship on:

US server for ESPN.
UK server for BBC iPlayer.
Italian server for RaiPlay, etc…

Launch the channel's app or website.
Stream Wimbledon 2022 anywhere.
BulletVPN has been around since 2017, promising users top-level security and privacy all the way. Not only that, but when it comes to streaming restricted media, BulletVPN does an amazing job unblocking even the channels with tough VPN bans.
We're referring to the likes of BBC iPlayer, one of Wimbledon's official broadcasters. You can also use dedicated servers that guarantee UltraHD streaming. With those, you can rest assured that no buffering or quality loss occurs during your matches.
BulletVPN has a 30-day money-back guarantee in case anyone wants to test its service. If you don't wish to submit your credit card info, you can ask their support team for a free trial.
Wimbledon 2022 – What You Need to Know
Wimbledon 2022 starts on Monday 27 June 2022 and ends on Sunday 10 July 2022. Novak Djokovic and Ashleigh Barty are the defending singles champions, and everyone is excited to see what will go on at the All England Lawn Tennis and Croquet Club in Wimbledon, London, United Kingdom.
Nothing is guaranteed, but everything is on the line. As for now, here are the past winners of the Wimbledon Championships:
Men's Singles
2021: Novak Djokovic
2019: Novak Djokovic
2018: Novak Djokovic
2017: Roger Federer
2016: Andy Murray
2015: Novak Djokovic
2014: Novak Djokovic
2013: Andy Murray
2012: Roger Federer
2011: Novak Djokovic
2010: Rafael Nadal
2009: Roger Federer
Women's Singles
2021: Ashleigh Barty
2019: Simona Halep
2018: Angelique Kerber
2017: Garbine Muguruza
2016: Serena Williams
2015: Serena Williams
2014: Petra Kvitova
2013: Marion Bartoli
2012: Serena Williams
2011: Petra Kvitova
2010: Serena Williams
2009: Serena Williams
Watch Wimbledon 2022 Live Online – Conclusion
Every year, the Wimbledon Championship draws millions of viewers to see top-class tennis action. Now, the viewership is going to increase as everyone now knows how to tune in from anywhere in the world.
With BulletVPN, streaming limitations exist no more. It only takes a click to connect and appear to be anywhere in the world. If you have any more questions, you can always turn to BulletVPN's support team for help via live chat.