How to Watch Tour de France 2022 Live Online
Posted by BulletVPN on 25 05 2022.
Grand Départ, aka, Tour de France is arguably the most well-known and prestigious of cycling's three Grand Tours. The 109th edition will commence from July 1st to July 24th, 2022, covering a distance of 3,328 kilometers. 21 stages are scheduled for the race, and you don't want to miss any of the cycling action. So, if you don't know your way around, here's how you can watch Tour de France 2022 live anywhere.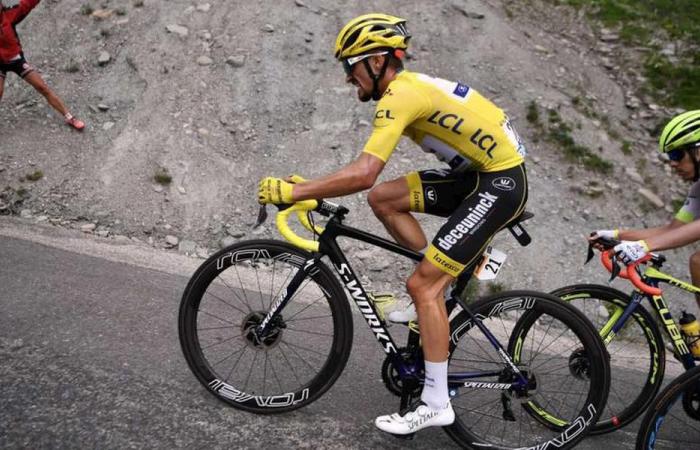 Grand Départ 2022 – Global Streaming
As mentioned, Tour de France is the biggest race among all three Grand Tours. While Giro d'Italia and the Vuelta a España have their fair share of fans and viewers, they pale in comparison to what Tour de France has harnessed over the years. In fact, the prestigious race gained more than 15 million spectators and 1 billion+ television viewers all over the world. Now, the question lies here: How did the race gain that much popularity on a global scale? The answer is simple. Tour de France has television deals all over the world. So, if you want to see if your country has an official broadcaster, check the list below:
Having such. alist of broadcasters might be beneficial for most cycling fans. However, some people don't have this privilege in their region as it might be lacking a channel that airs the race. Not to mention that a lot of these channels are premium, which may not be convenient to most.
Geo-Restrictions Apply
The problem here is that you won't be able to stream the race on any other channel if you don't live within its area of coverage. Each channel is restricted to its respective country. In other words, if you try to access them from abroad, you'll be blocked instantly. For example, ARD is a free channel that is only available in Germany. It requires a German IP address to operate. If you live abroad, such an IP is exactly what you lack, which will result in the following error message:
"Wir bitten um Ihr Verständnis. Derzeit ist der Stream aus rechtlichen Gründen nur in Deutschland empfangbar."

 
This translates to "For legal reasons, the stream can currently only be received in Germany." Geo-blocking has been a problem streamers have faced for a long time now. However, with BulletVPN, everyone can surf the internet as if no restrictions apply anymore. Read on and find out how BulletVPN can help you unblock all the aforementioned channels and watch Tour de France 2022 live wherever you are.
Tour de France Live Anywhere with BulletVPN
BulletVPN is a cybersecurity tool well-equipped to enhance your online privacy to the maximum. It protects everything you do by applying military-grade encryption, which prevents any third party from intercepting the data you send and receive online. It also cloaks your identity by changing your IP address to one in another country based on the server you connect to. Once the connection is established, you'll be able to access websites/channels in that region no matter where you physically reside. For example, if you want to watch Tour de France for free, ITV would be your best bet. The channel requires a UK IP address, so all you have to do is connect to a UK server. Once done, not only will you be able to stream Tour de France on ITV anywhere, but you'll also have access to everything UK-based online.
Grand Départ 2022 Anywhere – The Steps
Using BulletVPN is very simple. Just follow the steps below and you'll be watching Tour de France 2022 in no time:
First, subscribe to BulletVPN. You can do so by visiting the website or directly through the app.
Download and install the BulletVPN app on your device.
Sign in with your username and password, then open the server list.
Connect to a server where the channel you've chosen is located:

US server for NBC Sports.
UK server for ITV.
German server for ARD, etc…

Launch the channel's website or app.
Stream Tour de France 2022 live anywhere. (The screenshot below shows ARD unblocked using BulletVPN).
BulletVPN has more than 150 servers across 55 countries, including the ones in the channel list. The service offers excellent speeds, top-level security, and unmatched unblocking capabilities. In fact, BulletVPN is practically the only VPN provider that can access DStv outside South Africa. Aside from that, BulletVPN has a 1-day free trial in case you want to test it out. After that, you'll also benefit from a 30-day refund policy if a day wasn't enough for you.
Tour de France – The Schedule
Tour de France is set to begin on July 1st, 2022 and a lot of fans all over the world are excited to stream the cycling action. In that case, here's the full race schedule:
July 1st: Copenhagen to Copenhagen
July 2nd: Roskilde to Nyborg
July 3rd: Vejle to Sonderborg
July 5th: Dunkerque to Calais
July 6th: Lille to Wallers Arenberg Porte du Hainaut
July 7th: Binche to Longwy
July 8th: Tomblaine to La Super Planche des Belles Filles
July 9th: Dole to Lausanne
July 10th: Aigle to Les Chatel Portes du Soleil
July 11th: Morzine (Rest Day)
July 12th: Morzine to Megeve
July 13th: Albertville to Col du Granon
July 14th: Briancon to Alpe d'Huez (Bastile Day)
July 15th: Bourg d'Oisans to Saint-Etienne
July 16th: Saint-Etienne to Mende
July 17th: Rodez to Carcassonne
July 18th: Carcassonne
July 19th: Carcassonne to Foix
July 20th: Saint-Gaudens to Peyragudes
July 21st: Lourdes to Hautacam
July 22nd: Castelnau-Magnoac to Cahors
July 23rd: Lacapelle Marival to Rocamadour
July 24th: Paris La Défense Arena to Paris Champs-Elysées
Grand Départ 2022 Route Map
Twenty-three teams are expected to participate in the 109th edition of the Tour de France. However, the track is not easy as they'll be going through different types of stages, ranging from hilly, flat, to mountains. The full map is presented below:
Stream Tour de France 2022 Live – Final Words
The route starts in Brest and ends in Paris, so fans all over the world have a lot to cover during the race. Now, with BulletVPN, they won't miss anything as they can unblock any streaming channel broadcasting the 2022 Tour de France. BulletVPN is very easy to use and set up. However, if you need more help, you can contact the BulletVPN support team via live chat or ticketing.