How to Watch Super Bowl 2022 Live Online
Posted by BulletVPN on 26 01 2021.
The 2021/22 NFL season kicked off on September 9th, 2021, and now, it's time to conclude the epic competition. We all know what that means; the Super Bowl is here. The 56th Super Bowl will be played on February 13th, 2022 at the SoFi Stadium, Inglewood, California. It's the NFL final and you definitely don't want to miss a single touchdown. So, with that said, here's how you can watch the Super Bowl 2022 live online anywhere.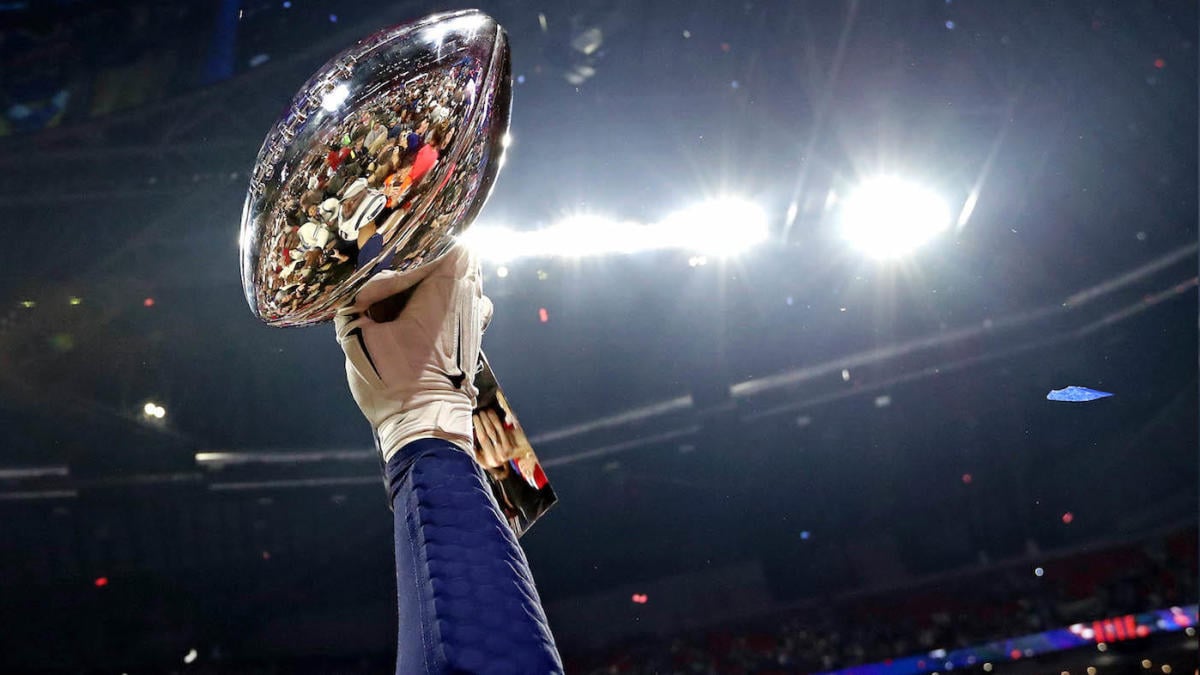 The 56th Super Bowl – Streaming Everywhere
The Super Bowl is one of the most-watched annual sporting events across the globe. In fact, the championship game is broadcast over 130 countries in more than 30 languages.
However, viewership is predominantly North American as most viewers are located in the United States. In fact, according to Nielsen Media Research, 2020's Super Bowl saw an average audience of 1.2 million viewership on Fox in the country.
Unfortunately, last year's edition didn't harness that much popularity and is considered to be the lowest watched Super Bowl since 2007. Despite having The Weeknd in the half-time show, Super Bowl LV only attracted 94.6 million viewers.
But the broadcast doesn't stop in the US as we mentioned above. The Super Bowl is popular all over the world and here are the official broadcasters:
NBC Sports (USA)
BBC iPlayer (UK)
Sky Sports (UK)
DAZN (Germany)
Channel 7 (Australia)
CTV (Canada)
DAZN (Canada)
TSN (Canada)
L'Equipe (France)
Rai Play (Italy)
TV3 (Denmark)
FanCode/Hotstar (India)
Spark Sport (New Zealand)
ViaPlay (Norway)
Movistar+ (Spain)
The channel list is far longer than that. In case we missed one in the country you reside in, check the full list of official broadcasters on NHL's website.
Geo-restrictions Apply
Despite having dozens of official broadcasters around the world, some people don't have this privilege in their region for lacking a channel that airs the Super Bowl. However, their problem continues as they can't also use any of the channels mentioned above due to geo-blocking being applied by each and every one of them.
This defense mechanism is mostly used by websites and streaming services to restrict user access to specific locations. It's mainly for copyright reasons. It uses geolocation techniques, especially the user's IP address to determine his/her location.
After that, the website/channel automatically measures the details of user locations and determines whether to grant access or not. For example, 7Plus is an Australian streaming service that only allows residents in the region to view its content.
In other words, only those who hold an Australian IP address are able to get in. If they're living abroad, an IP address in Australia is exactly what they lack, which will result in a geo-error message that looks like this:
"Player is only available for Australian users!"
We've already mentioned that your IP address is the main factor that's dictating what you get to access online. The 2022 Super Bowl is going to be epic and you're not missing a single touchdown. With BulletVPN, you can access every single one of the channels on our list wherever you may be.
Super Bowl Goes Extra International
So since the IP address is the main issue here, there's only one way to bypass the geo-restrictions applied on the Super Bowl channels – BulletVPN.
It's a cybersecurity tool that helps enhance users' security and anonymize their internet browsing to the max. Once a connection is established, all the data will pass through a private tunnel where BulletVPN encrypts it and replaces the user's IP address with a temporary one based on the country where the server is located.
For instance, if you connect to an American server, you'll receive a US IP address, granting you full access to Fox Sports and other US-based streaming services no matter where you reside.
The same goes for every channel above provided you connect to a server in their respective country. The process is very easy to complete. Here's what you need to do:
First, sign up with BulletVPN.
Next, download and install the BulletVPN application on your device. There are apps on Android, iOS, PC, Mac, as well as FireStick.
Once the app is installed, sign in with your username and password.
Now, open the server list and connect to one in the country where your chosen channel is available:

US server for NBC Sports.
UK server for BBC iPlayer
Australian server for 7Plus, etc…

Launch the channel's website or application on your device.
Stream Super Bowl LVI live anywhere.
As mentioned, the steps are easy to follow. Just go through them as they're stated and you'll be watching the Super Bowl in your region in no time.
Why BulletVPN?
Aside from using the latest security technologies topped with military-grade encryption, BulletVPN comes with a lot of benefits that'll help ease your browsing activities.
First, the "Bullet" in the name represents speed, and speed is what you'll be getting. The service has more than 150+ servers across 55 countries, giving its customers a lot of options to choose from.
Among these servers, you'll find ones labeled as UltraHD Support, which are optimized for what the name reflects. Speeds won't drop much due to encryption and you'll be able to stream the Super Bowl without any loss of quality.
Moreover, with BulletVPN's Smart DNS, not only can you avoid the speed loss, but you can expand your unrestricted streaming to various VPN-non-compatible devices such as PlayStation, Xbox, Apple TV, Smart TVs, and Chromecast.
On the other hand, BulletVPN is one of the best unblockers in the industry, proudly showing its capabilities when it comes to bypassing restrictions and tough VPN bans. The provider is one of the few that can unblock the likes of Kayo Sport, DStv, Netflix, BBC iPlayer, Showmax, NBC Peacock, Disney+, and other streaming services that block VPN traffic.
On top of that, BulletVPN has a 30-day refund policy. You'll get to that after you finish with the 1-day free trial you receive if you sign up through the Android app or contact their customer support.
The 2022 Super Bowl – What to Expect?
The NFL Final will take place on February 13th, 2022 live at the SoFi Stadium, Inglewood, California. Now, the match is important and all, but let's face it, the half-time show draws more viewers than the game itself.
You might disagree, but numbers don't lie. According to NFL,  2020's Super Bowl had 102 million viewers on Fox, which is grand. However, they also stated that the halftime show featuring Shakira and Jennifer Lopez had 104.1 million viewers.
Moreover, while last year's Super Bowl had lesser viewership rates than its predecessor, its half-time show did attract around 103 million viewers. Well, The Weeknd did have 5 top One's on the Billboard chart and he did a really good job.
This year, however, we're getting a star-studded roster of singers that will blow the SoFi's Stadium's roof with excitement. We're talking about legends such as Dr. Dre, Snoop Dogg, Eminem, Mary J. Blige, and Kendrick Lamar. The five performers have a total of 43 Grammys and 21 Billboard No. 1 albums. We guess that's enough to get us all hyped for the legendary Half-Time Show.
Mary J. Blige isn't a stranger to the Super Bowl's stage – she did perform back in 2001 along with Aerosmith, *N'SYNC, Nelly, and Britney Spears. Speaking of previous performers, here's a list that dates back to 2001:
2001: Aerosmith, *N'SYNC, Britney Spears, Mary J. Blige, and Nelly
2002: U2
2003: Shania Twain, No Doubt and Sting
2004: Janet Jackson, Kid Rock, P. Diddy, Nelly, and Justin Timberlake
2005: Paul McCartney
2006: The Rolling Stones
2007: Prince
2008: Tom Petty & The Heartbreakers
2009: Bruce Springsteen & The E Street Band
2010: The Who
2011: The Black Eyed Peas, Usher, Slash
2012: Madonna with guests Cee Lo Green, LMFAO, M.I.A., and Nicki Minaj
2013: Beyoncé with guests Destiny's Child
2014: Bruno Mars with guests Red Hot Chili Peppers
2015: Katy Perry with guests Missy Elliott and Lenny Kravitz
2016: Coldplay with guests Beyoncé and Bruno Mars
2017: Lady Gaga
2018: Justin Timberlake
2019: Maroon 5 with guests Travis Scott and Big Boi
2020: Shakira and Jennifer Lopez
2021: The Weeknd
Stream the Super Bowl Live Anywhere – Final Words
The Super Bowl is one of the most-awaited annual events in the world. Anyone around the world can now watch the NFL final no matter where they reside thanks to BulletVPN.
You have the channels and you have BulletVPN now. All you need to do is pick the channel you wish to watch the match on, connect to a server in its respective country, and stream SuperBowl LVI live. If you need any help setting up BulletVPN, don't hesitate to contact our support agents.