How to Watch March Madness 2023 Live Online
Posted by BulletVPN on 03 02 2023.
This one is for all the American college basketball fans out there; the 2023 March Madness event is here. On March 14th, 2023, the legendary tournament will kick off, with CBS, TBS, TNT, and truTV acting as the official broadcasters in the United States. Emphasis on "the US" as these services are only available there. In other words, anyone living abroad will miss out on the tournament unless we step in.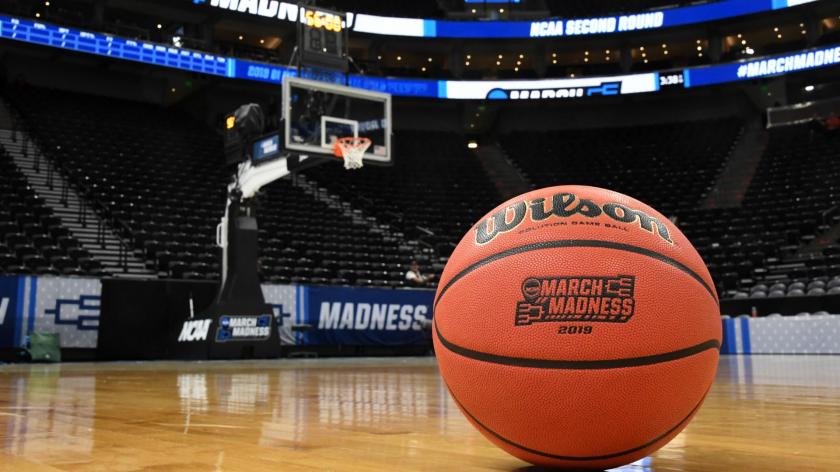 Geo-restrictions can be a hassle, especially in the streaming industry. But we at BulletVPN guarantee unrestricted internet for everyone, and that's exactly what we're going to provide now. So, without further ado, here's how you can watch March Madness 2023, wherever you may be, using BulletVPN.
First! The Geo-Blocking Issue
March Madness is one of the most popular basketball tournaments in the world, and there's no exaggeration in this statement. On a yearly basis, fans wait for this event to witness top-notch matches and basketball action.
In fact, over the years, March Madness has been harnessing over-the-top viewership rates, and it doesn't seem to be halting anytime soon. In the previous event (2022), the tournament scored an average of 10.7 million viewers  – a 13 percent increase from what the previous year saw.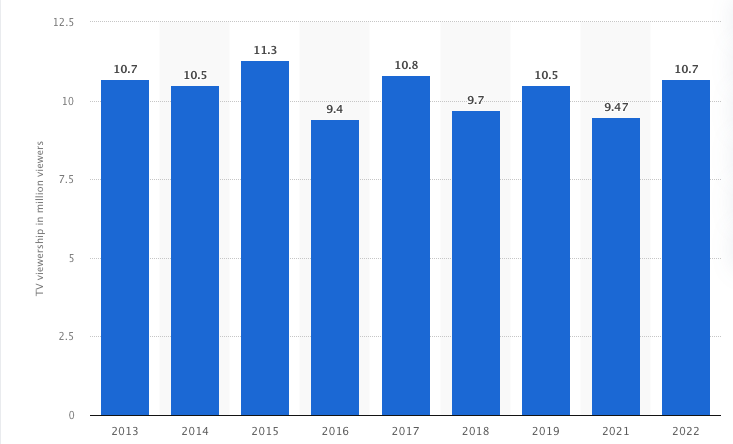 Unfortunately, the numbers presented in the graph above represent those residing in the United States, as all the streaming channels are restricted to that region. That's due to broadcasting rights, which forces the streaming services to apply a technique we call geo-blocking.
When you approach a certain channel, it examines your IP address to determine your location. In NCAA March Madness, CBS, TBS, TNT, and truTV's case, fans need to be in the US (American IP Address).
If they're abroad, that's exactly what they lack, leading to an instant block by any of the aforementioned channels. For example, if you try to access the March Madness app from the UK, the following error message will appear:
"You have reached this page because you were accessing a NCAA.com page that requests personal information (email address). Unfortunately, NCAA.com does not support the storage of personal information for visitors from the European Union (EU)."

As we mentioned, geo-restrictions can be a hassle for streamers, but we'll help you with this issue. Basketball fans all over the world, in the next section, we're going to show you how to unblock each and every channel broadcasting the 2023 March Madness wherever you may be.
March Madness Live Anywhere – Enter BulletVPN
BulletVPN is a cybersecurity tool that helps you protect your data and conceal your identity while browsing the web. When you connect to a BulletVPN server, it will shield your data using military-grade encryption. This prohibits any third party from intercepting your data while surfing the internet.
Moreover, BulletVPN cloaks your IP address and replaces it with a temporary one based on the server's location. Not only does this grant you complete anonymity, but it also allows you to access geo-restricted content in the selected region.
For example, if you connect to an American server, you'll receive a US IP address. As a result, you'll be able to watch the likes of CBS and the March Madness app anywhere you are. To put it in simple terms, here's how you can stream the 2023 March Madness live:
Subscribe to BulletVPN.
Download and install the application on Android, iOS, PC, or Mac.
Activate the client and sign in with your credentials.
Connect to an American server.
Launch your channel's application or website.
Sign in with your cable provider's username and password.
Enjoy the 2023 March Madness live anywhere.
With BulletVPN, you're guaranteed to surf the internet risk-free. With 256-AES encryption, not even the most-skilled cybercriminals can intercept your sent/received data. Not only that but with servers that support UltraHD streaming, watching the matches in perfect quality is an easy task.
Furthermore, BulletVPN excels in the security department thanks to features like BulletShield, a kill switch, and of course, the popular WireGuard protocol. To give the service a thorough test drive, contact customer support for a free trial. You do get a 30-day refund policy once the trial ends.
A Smart DNS Alternative
While a VPN is more than enough to unblock any of the channels broadcasting the event, some users may still want more. Here's why! VPNs can only be accessed on specific devices – if not installed on your router.
However, Smart DNS can be configured on any device, including PlayStation, Xbox, Apple TV, Samsung Smart TV, and more. With Smart DNS, there will be no encryption present. In other words, your data won't be protected, and your IP address will remain the same.
The difference here is that Smart DNS doesn't change your IP to unblock content. Instead, it reroutes parts of the URL necessary to trick the selected channel into thinking you're within its coverage area. That's it. And with no encryption in place, speed is guaranteed to be at its best.
To configure BulletVPN's Smart DNS, you can follow the setup guides provided on the website. This service comes for free with any subscription plan you use. You get to operate through BulletVPN's Smart DNS and VPN features under one subscription.
Watch March Madness Cable-Free
As mentioned above, March Madness is available through multiple channels, including the official March Madness app. However, they all require a US cable provider to allow you to stream the event. Well, that's if users don't know about Sling TV.
This service grants you access to dozens of live channels for a simple monthly subscription fee. For $40/month, you can access TBS, TNT, and TruTV without having a US cable deal. Of course, Sling TV is only available in the United States, which means you have to use BulletVPN, connect to a US server, and unblock the channel in your region.
March Madness with BulletVPN – Final Words
The 2023 March Madness kicks off on March 14th with the First Four. You already know how exciting the tournament is. That's why you should start acting now to unblock the streaming services broadcasting the event.
With BulletVPN, not only is it guaranteed to access these channels but also any desired channel around the world. With 150+ servers in 50+ countries, you can enjoy unrestricted internet wherever you may be. Don't forget that if you need any additional tips, you can always contact BulletVPN's customer services.