How to Watch UEFA Euro 2020 Live Online
Posted by BulletVPN on 31 05 2021.
It's almost time. The showdown to crown the continent's soccer champion will soon commence. After 5 years of waiting, Euro 2020 is finally happening, despite being in 2021. Due to the Pandemic, a lot of sporting events were canceled, but things are looking great this year. The UEFA European Championship kicks off with the opening match between Turkey vs. Italy in Rome on 11 June 2021, with 22 other teams waiting on the schedule. If you're a soccer fan, you definitely don't want to miss any of the action, which is UEFA has sold the tournament's broadcasting rights to TV partners all over the world. If you don't know your way around, here's how you can stream Euro 2020 live anywhere.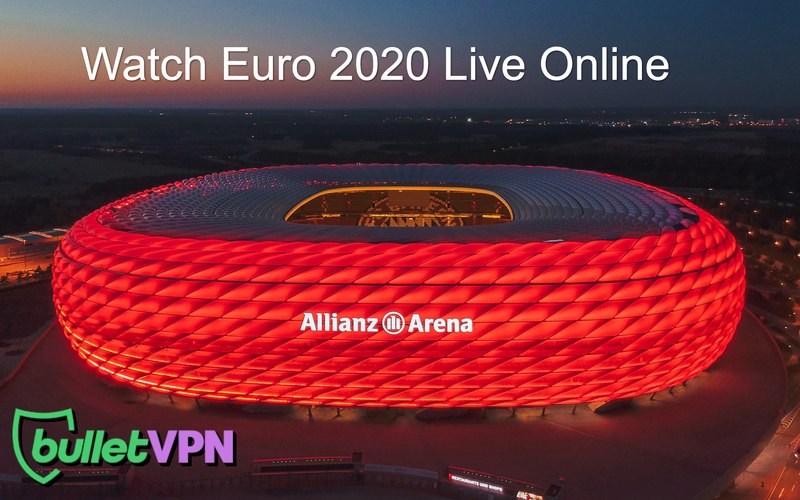 Euro 2020 – Your Streaming Options
The UEFA. European Championship is one of the most popular tournaments in the world. The event occurs every 4 years, but the action it provides is definitely worth the wait. Back in 2016, the Euro saw groundbreaking records in terms of viewership.
The entire tournament harnessed more than 2 billion views, including around 600 million during the final. The 2012 edition also brought a good viewership rating, with the final between Spain and Italy getting a cumulated audience of 120 million viewers.
Euro's popularity keeps growing, and that's all thanks to several deals with broadcasting partners across the globe. UEFA made sure the Euro goes global, and that's exactly what happened. Now, before we proceed with the guide, here are the 2020 Euro official broadcasters:
ESPN (USA)
BBC iPlayer/ITV (UK-Free)
TSN (Canada)
TF1 (France-Free)
Rai Play (Italy-Free)
Sky Italia (Italy)
Sonyliv (India)
SuperSport (South Africa)
Optus Sport (Australia)
Globosat (Brazil)
Mitele (Spain-Free)
beIN Sports (MENA)
ARD/ZDF (Germany-Free)
ViaPlay (Denmark)
Sport TV (Portugal)
Match TV (Russia)
These are just some of the broadcasters available; some of them are free, while the others require a subscription. Either way, if you don't have a dedicated channel in your country, or the fee isn't within your budget, accessing one from abroad is not allowed.
You see, streaming channels and websites apply what we call geo-blocks, in which they terminate your access based on your location. They look up your IP address to pinpoint your whereabouts. Once that's done, they'll block you instantly if you're not within their broadcasting area.
Bypassing has never been easier if you operate with BulletVPN. In the next section, we'll be shedding more light on geo-blocking, BulletVPN's features, and how you can watch the 2020 Euro anywhere. Scroll a bit further.
Streaming Euro 2020 Anywhere – Enter BulletVPN
Geo-blocking has been a problem streamers face on a daily basis. As mentioned, if you try to watch a channel outside its respective country, a geo-error message will appear. BBC iPlayer offers Euro 2021 for free, which can be a missed opportunity due to geo-blocks. Once you click on a video while abroad, the following error appears:
"BBC iPlayer only works in the UK. Sorry, it's due to rights issues."
When it comes to virtually changing your location, BulletVPN is the right tool to use. BulletVPN has been around for quite some time now, promising its users enhanced security and ultimate online anonymity. With military-grade encryption, BulletVPN protects the data sent and received from hackers and malicious online entities.
Also, when connected to a server in the country of your choosing, BulletVPN cloaks your IP address (Extra anonymity) and replaces it with a temporary one in the same region, granting you full access to restricted content there.
For example, if you connect to a UK server, you'll receive a British IP address. As a result, services like ITV, BBC iPlayer, Sky Go, and the likes will be fully operational wherever you may physically reside.
Euro 2020 Live Stream – The Steps
Since your IP address is the problem, let us show you how you can use BulletVPN to change that into the required IP, and stream Euro 2020 live anywhere:
As a first step, subscribe to BulletVPN. You can even get a 1-day free trial if you contact their support team.
Next, download and install the BulletVPN application on your device. Clients are available on major operating systems such as Mac, PC, Android, and iOS.
Once the app is installed, activate it and log in with your credentials.
Select a server based on the channel you wish to unblock:

UK server for BBC iPlayer.
US server for ESPN.
French server for TF1, etc…

Wait a few seconds and launch your selected channel's app or website.
Stream Euro 2020 live wherever you are.
BulletVPN has over 150 servers across 55 countries, including the ones hosting top channels for the 2020 Euro Championship. Streaming quality matters, and VPN encryption might lower that. However, BulletVPN made sure to optimize its servers so that they'd support UltraHD streaming. The app includes several "UltraHD Support" servers in different countries like France, the UK, the USA, and more.
Furthermore, BulletVPN has a 1-day free trial (NO credit card information required), followed by a 30-day refund policy if you decided to opt for the service. This is more than enough to determine whether BulletVPN is the tool for you or not. If it's streaming and security, it definitely is.
Inside the 2020 Euro Tournament
The tournament kicks off on June 11th, 2021, and rounds up on July 11th, 2021. In other words, we have 1 month of non-stop soccer action. The Coronavirus pandemic has definitely affected the Euro Championship, even after the postponement.
Now, the stadiums are ready to welcome spectators but at a certain capacity. 11 stadiums will host the tournament, and most of them are welcoming attending fans. St Petersburg and Baku are accepting capacities of 50%, while Wembley agreed to welcome a capacity of 25%.
Budapest is aiming to accept 100% of capacity, but that is yet to be confirmed before the 2020 Euro commences. The groups have been sorted, and here's how they look like:
A: Italy, Switzerland, Turkey, Wales
B: Belgium, Russia, Denmark, Finland
C: Ukraine, Netherlands, Austria, North Macedonia
D: England, Croatia, Czech Republic, Scotland
E: Spain, Poland, Sweden, Slovakia
F: Germany, France, Portugal, Hungary
Schedule
The full Group Stage schedule can be found below:
Friday, 11th June
Italy vs. Turkey (Rome; 3 p.m. ET, 9 p.m. CET)
Saturday, 12th June
Wales vs. Switzerland (Baku)
Denmark vs. Finland (Copenhagen)
Belgium vs. Russia (Saint Petersburg)
Sunday, 13th June
England vs. Croatia (London)
Austria vs. North Macedonia (Bucharest)
Netherlands vs. Ukraine (Amsterdam)
Monday, 14th June
Scotland vs. Czech Republic (Glasgow)
Poland vs. Slovakia (Dublin)
Spain vs. Sweden (Bilbao)
Tuesday, 15th June
Hungary vs. Portugal (Budapest)
France vs. Germany (Munich)
Wednesday, 16th June
Finland vs. Russia (Saint Petersburg)
Turkey vs. Wales (Baku)
Italy vs. Switzerland (Rome)
Thursday, 17th June
Ukraine vs. North Macedonia (Bucharest)
Denmark vs. Belgium (Copenhagen)
Netherlands vs. Austria (Amsterdam)
Friday, 18th June
Sweden vs. Slovakia (Dublin)
Croatia vs. Czech Republic (Glasgow)
England vs. Scotland (London)
Saturday, 19th June
Hungary vs. France (Budapest)
Portugal vs. Germany (Munich)
Spain vs. Poland (Bilbao)
Sunday, 20th June
Italy vs. Wales (Rome)
Switzerland vs. Turkey (Baku)
Monday, 21st June
North Macedonia vs. Netherlands (Amsterdam)
Ukraine vs. Austria (Bucharest)
Russia vs. Denmark (Copenhagen)
Finland vs. Belgium (Saint Petersburg)
Tuesday, 22nd June
Czech Republic vs. England (London)
Croatia vs. Scotland (Glasgow)
Wednesday, 23rd June
Slovakia vs. Spain (Bilbao)
Sweden vs. Poland (Dublin)
Germany vs. Hungary (Munich)
Portugal vs. France (Budapest)
Stream UEFA European Championship Live Anywhere – Final Words
The good news is that many networks are showing the Euro for free, so you won't have to be resorting to pirated streams or pay expensive fees. With BulletVPN, you can access any channel regardless of its coverage area. You have everything you need to enjoy one month of epic European soccer. So, subscribe to BulletVPN, tune in on June 11th, 2021, and enjoy what Euro 2020 has to offer.
Remember, if you have any questions, you can always contact BulletVPN's support team. They're available through live chat, emails, and tickets – Give them a shout-out, and they'll happily assist.