How to Surf the Web Anonymously with BulletVPN
Posted by BulletVPN on 06 11 2019.
Surfing the internet anonymously will severely limit other parties from tracking or recording your online activities. You can access the internet using a concealed identity to hide your browsing practices – or if you have to – you can also visit certain websites anonymously. Standard web browsing often exposes your information to website owners, local ISPs, the government, as well as cyber-attackers. Luckily, we've listed some of the online browsing practices you can adopt to stay anonymous and perform untraceable web searches.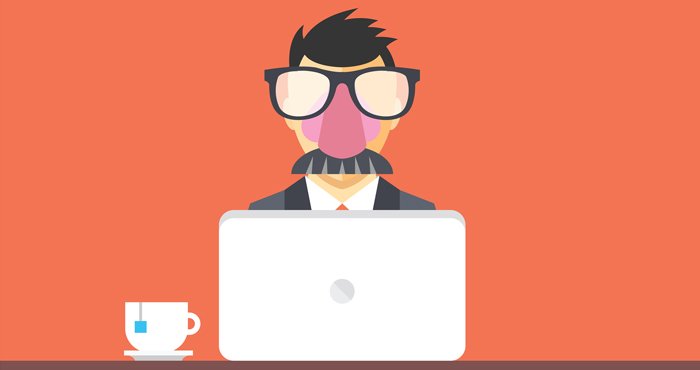 Why Should You Anonymize Your Browsing?
There're several reasons as to why you should browse the web anonymously, and most of them are often attributed to the privacy and security of your information. Anonymous web browsing is a must if you stay in a country that has tons of restrictive internet policies, as well as heavy internet censorship.
Surfing privately will allow you to hide your browsing habits and even bypass content blocks. Additionally, if you're hunting for a new job opportunity, and you'd rather your employer doesn't know, private browsing can hide your web searches from the company systems.
Equally, if you're at home trying to compare different prices of products you fancy buying, and you don't want the e-commerce sites to collect your actual email so they can send you annoying emails about their products.
If for no other reason, maybe you only wish to have safe browsing, knowing your browsing activity isn't tracked or recorded for advertising purposes.
Anonymous Browsing – How Is It Achieved?
There're several ways you can follow to stay anonymous while surfing the internet, but some methods are way better than others. Here's a list of hacks you can perform to remain anonymous when browsing:
Hide Your IP Address with a Web Proxy
Notably, not all internet proxies are built equally, but you'll find several free and anonymous proxy servers that are excellent for browsing the internet privately. When you use a web proxy to visit a site covertly, all your internet traffic is routed through a remote server before the website page is downloaded onto your browser.
Thanks to this, if anyone is trying to track you – say, website owner, ISP, government, or hacker – your website browsing will appear to be originating from the web proxy's server location instead of your actual location.
"Some of you might use Smart DNS Proxies to bypass regional restrictions. Please note that this technology reroutes some of your data, but everything about you is exposed. That includes your IP address as well. So, if 100% anonymity is your goal, bypassing geo-restrictions using a Virtual Private Network should be your choice."
Use a Virtual Private Network
A VPN – Virtual Private Network – is an internet tool that is similar to a web proxy but quite useful in instances where you want to encrypt everything you do online. The VPN will route your web searches through their server – the VPN server you connected to. But it's not your browser activity, the entire online activities on your device, including file sharing as well.
However, if you're making this move, you should consider trusting a credible provider. A great VPN will sport a wide range of features, and the most crucial ones, include:
Doesn't store users' data
Observes a strict no-logs policy
Top-notch privacy and security standards
Offers fast browsing speeds
Has a reliable worldwide server coverage
Compatible with various streaming and torrenting sites
Supports all major platforms and devices
Has constant customer support
Bear in mind that if you choose to opt for free VPNs, then you risk exposing your information. Fortunately, BulletVPN is a premium service that offers all the above, along with a few extra special features. 
We're talking about BulletVPN's Kill Switch and Bullet Shield. These two will give you the anonymity you're looking for indeed. First, a kill switch terminates your internet access if a sudden drop occurs. This will ensure that none of your browsing traffic slips to your ISP's servers. 
On the other hand, Bullet Shield completes this circle by not allowing you to connect to the internet, unless you're using one of BulletVPN's servers. If that doesn't give you the anonymity you need, nothing will.
Finally, a good VPN should offer users a way out in case the service didn't live up to their expectations. BulletVPN provides a clear 30-day refund policy for you to test out its services.
What You Need to Do
In case you don't know how to use a VPN, here's how you connect to a VPN server and hide your online identity:
First, you need a subscription to BulletVPN. Head to our website and create an account.
After that, download the app from your native AppStore or from our website. Choose your platform and hit Download.


Now, launch the app and sign in with your BulletVPN credentials.


Connect to a server of your choosing. We'll display an example when we're connected to a US server.


There you have it. Some easy steps and you're browsing the web anonymously with BulletVPN.
Use Privacy-Focused Browsers
Browsers such as Tor Browser and Brave are known for offering private and secure web browsing. Brave has a powerful ad-block feature that blocks any form of adverts directed to your browser, and if you turn on the incognito mode, you will have the option to use the Tor search engine or DuckDuckGo.
Tor browser, on the other hand, is configured to automatically give your privacy by re-locating your browser activity through an anonymous server, thereby concealing your actual location.  Furthermore, if you stay in a heavily censored region – such as China, Iran, or any other EU countries – then we suggest you stick to the Tor browser.
Use Secure Search Engines
Search engines like DuckDuckGo are highly recommended when you want to browse the internet anonymously. DuckDuckGo can block advertising trackers and keeps your browser history concealed. It's a great way to secure your data and the Engine does have a clear policy. However, if you read carefully, some disclosures in that policy might concern you if 100% anonymity is your goal.
DuckDuckGo does save your search history. But it also claims that this saving is non-personal. In other words, your searches can't be tied directly to you. Here's what their official website has to say:
"We also save searches, but again, not in a personally identifiable way, as we do not store IP addresses or unique User agent strings. We use aggregate, non-personal search data to improve things like misspellings."
DuckDuckGo is a great way to achieve anonymity online, but you better take proper precautions either way. So, we do suggest that while you're using the engine, connect to BulletVPN. That's a great way to ensure that you're anonymous no matter what happens.
Avoid Public Wi-Fi Hotspots
Using public WiFi hotspots to access the internet, can often compromise your cybersecurity. Places like hotels, restaurants, and other public institutions are known to be targeted by cybercriminals for identity tracking.
Most of these cyber-attackers focus on stealing information such as passwords, emails, IDs, and other credentials they can use to access your various accounts.  While this may not raise the alarm to you, hackers can use your data to harm you in many ways, including obtaining your financial statements, even social media profiles.
Nonetheless, if you have to connect to a public WiFi hotspot, then we suggest you use a BulletVPN when connecting to their network. It will offer you the best-in-class performance and make it next to impossible for anyone to get a hold of your data.
Browse Incognito (Private Mode)
While it might not give you improved privacy, the incognito mode of any browser doesn't store your browsing activity whatsoever. We also suggest using this technique when you want to use a guest machine that doesn't have privacy tools such as a VPN.
Stay Vigilant Against Caches and Cookies
Cookies will serve you well if you want to save login information and faster loading of your most-visited sites.  However, some websites will use your stored information like emails to automatically include you in their uncalled-for email campaigns.
Similarly, these websites can collect your data and sell it to third parties who will use to direct adverts to your timeline. So, make sure you don't save your passwords, login information, or any other personal data that might affect you in the long run. Better delete them if necessary to be on the safe side.
Other Ways to Stay Anonymous Online
Web browsing is just a single facet of the many ways of using the internet as a whole. Could be, you mostly use the internet to access various stand-alone software and apps on your machine/device.
Dedicated clients like email apps, web-based apps, texting services, file-transfer software, and other online platforms can also compromise your online identity if you do not secure your connection.
Therefore, here're some of the tricks and hacks you can use to access the internet privately, and securely:
Use secure email providers like ProtonMail, Tutanota, and other privacy-minded email services. These email providers observe strict zero-logs policies and they do not store your data.
Only use cloud storage platforms that promise you military-grade encryption and zero-knowledge privacy.
Avoid using payment methods like online debit/ credit cards, AliPay, PayPal, and other services that require you to provide your identity. Instead, opt for Cryptocurrency options like Bitcoin, and Etherium that allow for anonymous payments.
Refrain yourself from revealing too much personal information on your social media profiles.
Avoid instant messaging services that don't offer end-to-end encryption. We also suggest using double-authentication techniques at login when accessing such apps.
Turn off your device GPS location service to avoid obvious tracking of your actual location. Optionally, you can sort to set a fake GPS location to hide your physical address.
Avoid saving crucial credentials on various apps, and sites to avoid compromising your identity.
If possible, try making calls – both local and international – using virtual calling services, like Ooma, and Vonage.
Anonymous Browsing – Final Thoughts
Browsing the web can be fun and informative, but it doesn't come cheap. Big search engines like Google, Bing, and Yahoo aid us in finding our way around the World Wide Web, but in return, they grab as much information about us as they can.
These websites aren't the only privacy threat out there, and you should take proper precautions to secure your data. We at BulletVPN care about your privacy and that's why we've provided you with the right solutions in the form of this comprehensive guide.