How to Watch ABC Go Outside the US with BulletVPN
Posted by BulletVPN on 28 01 2020.
American TV has proven itself worthy of being called one of the best in the world. In fact, one of the oldest broadcasters in the world, ABC is a key reason for the US' success in the industry. Back in 2018, the channel had over 5,423,000 viewers in the United States, which is –3% of what it had in 2017. However, the issue here is that only US residents can view what the channel has to offer. If you live abroad, ABC Go will block your access as it applies geo-blocks. Now, if you're an American ex-pat who wishes to watch the likes of Grey's Anatomy, Once Upon a Time, The Good Doctor, Scandal, and more outside the US, here's how you can unblock ABC Go with BulletVPN.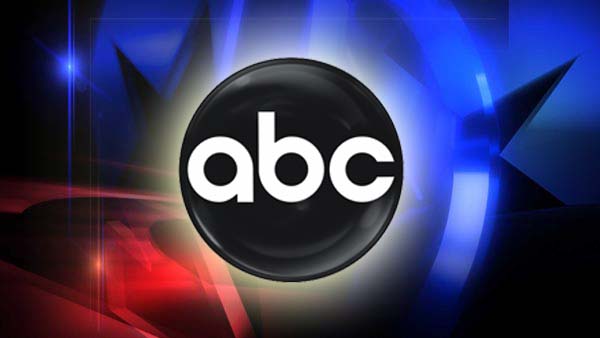 ABC  Go-ing Nowhere Outside the US
ABC is not just about quality TV shows, such as the ones we mentioned above. In fact, ABC also broadcasts top sporting events, along with dozens of blockbuster movies, sports, reality shows, and programs for every age and audience.
All you need is a valid cable subscription to one of the following providers, and ABC Go is all yours (there's a lot more to check on their website):
Charter.
Xfinity.
Cox.
DISH.
Frontier.
Spectrum.
Suddenlink.
Having a cable subscription will do you no good if you're planning on leaving the country or you've already left. You see, ABC determines whether you get to see its content or not based on your current location.
If it's not in the United States, you're not getting in. The channel looks up your IP address to pinpoint your exact whereabouts. And since you're an ex-pat in a different country, an American IP address is exactly what you lack.
Now, if you approach the channel and try to stream one of its videos with a foreign IP address, all you'll be getting is the following geo-error message:
"You appear to be outside the United States or its territories. Due to international rights agreements, we only offer this video to viewers located within the United States and its territories."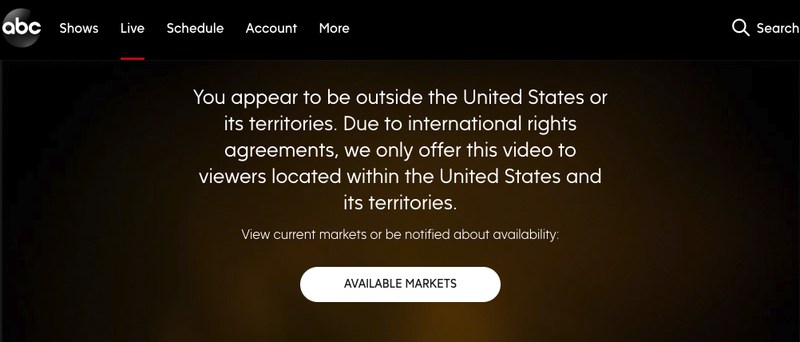 The message could not have been any clearer. You need to be residing in the
United States to access ABC's content
. However, with a little help from
BulletVPN
, you can virtually change that location and appear as if you're browsing the web from the states. How? Scroll a bit further and find out.
BulletVPN – ABC Go-es  Global
In case you didn't know, your IP address acts a lot like a postal address, and websites/services use it to identify your device, browser, ISP, and of course, your physical location. To circumvent geo-restrictions, you must change that.
BulletVPN manages to work around this issue by rerouting your traffic through a remote server in a country of your choosing. Once you connect, it provides your traffic with military-grade encryption for extra security and cloaks your IP address to enhance your anonymity.
As it hides your IP address, BulletVPN assigns you a new one based in the region where the server is located. As a result, you'll be able to unblock any region-restricted content in the area. For example, if the server is in the United States, you will obtain an American IP address.
Finally, with that, you can access any US-based channel or website, including ABC Go, no matter where you reside across the globe.
ABC Go Anywhere – The Steps
ABC Go is one of the hardest video sites to access overseas. However, BulletVPN can circumvent this problem with ease. You're a few steps away from unblocking quality US television in your country:
First, you need to sign up with BulletVPN.
Next, download and install their VPN application on your streaming platform. There are compatible clients for PC, Mac, Android, iOS, as well as Fire Stick.
Run the app and sign in with your username and password.
Open the server list and connect to an American server. Make sure it's Portland 1 or 2 as so far, these are the operating ones for ABC.


Now, launch ABC's website or the ABC Go app.
Stream ABC Go wherever you are on the map.

BulletVPN has more than 111 server locations in 47 countries, with 16 of them in the United States only. It offers consistent speeds, ultimate security, and top-notch privacy tools. While most VPNs have a kill switch to cut off your internet if a sudden drop occurs with your VPN connection, BulletVPN enhanced that with Bullet Shield.
A technology that does not allow users to connect to the internet if there's no connection established with BulletVPN. There's also a 30-day money-back guarantee if you wish to try the service risk-free. You can also get in touch with the support team and ask them for a 1-day free trial. As for Android users, if you sign up through the app, you'll see the free trial option on the home screen once activated.
BulletVPN – More than Just a VPN
BulletVPN doesn't only use its VPN service to unblock geo-restricted content. The provider also offers a Smart DNS feature within the regular subscription for that. BulletVPN launched Smart DNS as a means to circumvent many regional and location blocks that websites were frequently applying to their content.
Moreover, just like any VPN out there, the application is not compatible with a lot of devices. But with Smart DNS, you get to cover a wide range of streaming platforms, including Windows, iOS, Mac, Android, Amazon Fire Stick, Apple TV, Chromecast, PlayStation, Xbox, as well as Smart TVs.
Smart DNS works by rerouting the parts in your traffic that highlight your physical location. Once the process is done, your IP remains intact, which means you get to access both restricted content and your local ones simultaneously.
Furthermore, there won't be any encryption in place. This might take away the extra security and privacy, but in return, you get to stream HD and UHD content with minimal to no speed loss. Setting up BulletVPN's Smart DNS is very simple. Just follow these steps, and you're good to go:
Sign up with BulletVPN.
On the official website, follow the setup guides based on the device you're using. It's very detailed; you won't miss a thing.
Once set up, launch ABC Go's website or app.
You now have the ABC Go outside the United States.
No additional software is required to configure Smart DNS on your device. Also, you're not obligated to pay one extra penny above your BulletVPN subscription; Smart DNS comes as an included feature. Also, Smart DNS is available to try out in both the 1-day free trial and the 30-day money-back duration.
ABC Go – The Supported Devices
Smart DNS will come in handy in terms of streaming ABC Go outside the United States as it's available on a wide range of devices, including:
Windows PC
macOS
Android
iOS
Apple TV
Chromecast
Roku
Amazon FireStick
Samsung Smart TV
What's on ABC Go?
The channel has more than 5 million viewers in the United States only. This gives you an idea about how popular it is. But why is it, though? Well, we'll let the content speak for itself:
Grey's Anatomy
Modern Family
Black-ish
The Bachelorette
The Bachelor
American Housewife
The Good Doctor
Scandal
Speechless
The Middle
The Fix
Emergence
Quantico
Designated Survivor
Station 19
Castle
Ugly Betty
Desperate Housewives
Twin Peaks
Shark Tank
The Goldbergs
ABC Go Anywhere with BulletVPN – Final Thoughts
There's always more when it comes to the internet; you just can't access it due to the restrictions in place. Now, BulletVPN offers you the chance to break those limitations and get around the World Wide Web as freely as you can.
With the providers VPN or Smart DNS service, you can access ABC Go wherever you may be. If you need any help, feel free to contact BulletVPN's support team. They're available 24/7 to solve your problems.